Can we start with the first alcohol you ever tried? Wine? Spirits?
I had lunch with my family, grandma, mom, grandpa and dad. I was about 7 years old.
After lunch mom and dad put me to bed and went back to work. I woke up, I was so thirsty, I saw the bottle on the table where we had lunch and thought it was water. Well it turned out that it was wine. I drank a few sips my parents came back, and saw me drinking out of the bottle. They were shocked as I had a little tipsiness and put me back to bed.
And a first alcohol without accident, for example with spirits?
That came way later, my grandma, she's still alive, a great woman, she has the plan of getting 100 years old. She's 93 now. She always drank Schnapps. For dinner and lunch there is always schnapps with her. She introduced me to different qualities and fruits when I was older.
Was she making her own schnapps?
No, she only drank lots of schnapps!
Do you think she's a link with you making schnapps today?
It could be. I grew up in the South of Burgenland, near the border of Hungary and Slovenia, I grew up in a 500 inhabitants village, surrounded with orchard trees, and in such a small village, you know everybody. We had two churches and one distillery. When you have a great amount of fruits they often getting finished in a different way, for example producing marmalade, juice or conserve the fruit via distilling.
Was it a common distillery, for everyone?
In Germany you can distinguish between agricultural and industrial distilleries. In detail we further differentiate between Abfindungs- und Verschlussbrennerei.
What did you like best?
The technical work. We have different boiling points at which temperature the acceptable compounds dissolve.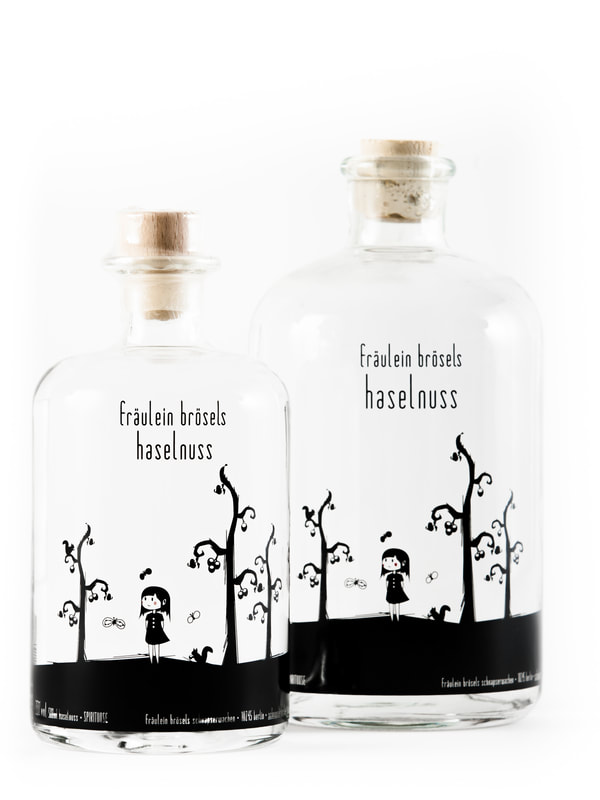 Once the raw material (fruits, grains, etc) has fermented it is heated. Since different base elements in the material, such as water, alcohol, and fusel oils have varying boiling points, the elements separate. During the distillation process, the first portion of the distillate (the head) to come out of the condenser is drained off.
The distilled material is then collected in a vessel – with care that the heads and tails (undesirable elements) are excluded from the drinkable alcohol.
I also really adore to work with the nature which is very challenging every year.
You started with wine and not spirits though, can you tell me about it ?
My idea was to offer wines that are different to the wines you can get everywhere. Therefore I was focussing on small vineyards all over the world, with a small focus on Eastern Europe as it is very exciting to have a look at countries that would never came to your mind as wine growing district. Still the demand for wines of these countries are clear and tiny and there is more demand for these wines in restaurants than for end consumers.
My idea from the scratch was that I will first serve wine to the gastronomy as they can create a demand for that special type of wines or new great vineyards. And that happened.
So that was the beginning of my wine business seven years ago.
How did the spirits making start?
At the beginning of 2013 I started with my schnapps awakening. I often had dinner in different gastronomies and saw that guests were not averse against schnapps but the problem was the alcohol content. It often turned out to be too strong on the palate, the flavour in the nose was very welcoming but after sipping on the schnapps they turned their countenances into creepy faces. I wanted to change that faces into more cheerful smiles.
Starting my product line there was a huge demand from the beginning for women as men. Although you might have thought that high percentage alcohol is more a men thing. But men and women were impressed that it is possible to offer a schnaps that is pleasant to drink and don't let you shake yourself in a painful way. And now they can drink together schnapps and smile at theirselves. That is the part that makes me mostly happy. When people smile while they drink my schnapps!
How did you learn distilling?
I've studied economics, specializing in marketing and market research in Vienna. I always liked mathematics and struggling with numbers. But I've learned distilling from my mentor.
I learned it my doing and had the great chance to grow up with a distillery in my home town. I knew the family of the distiller in my home town so I often had the chance to stop by and work with them when I was a little child. I'm now working with a great person, my mentor, in Franken and learning from the best and very experienced and also warm-hearted person / distiller. We are not only business partner, we also became friends.
How long did the process take? From the idea of doing something with almond to the actual product you are happy with?
Well, it's a long term process which normally never ends. I'm happy with my products but I'm always tasting them and trying to improve them. It's in this way normally and often a way of finding the best quality/basis of fruits for my products.
Which was your first spirits you did? Pear?
No, I decided to go with ingredients, which are less common and which people don't have in their mind. So I started with Hazelnut, black currant and rowan berry, a local berry which depends to the cherry blossom plants.
It reminds me a talk I've been to, recently, by French spirit maker Nicolas Julhès from La Distillerie de Paris. It was saying that the future of craft spirits was into bringing new ingredients in the spirits's world, not going into gin or rum but into for example maple syrup spirits. Is this something that is close to you ?
Well, I have a different point of view. I think that the Gin, Rum and Whiskey market is a stable market, with drinkers that are very open for that kind of spirits. Especially the whiskey drinker I know adore whiskey and would always prefer a glass of whiskey to any other spirit.
I like to drink Gin and Rum sometimes, although I prefer fruit spirit.
When you have a business idea -doesn't matter which business – you should always proof your idea if there is demand for that kind of product and work out a business plan.
So being unique or having your USP is a very important fact in pursue your goal and work out your idea. Whatever if it's a maple syrup spirit or a magazine or a lemonade.
And something you do not like?
Well, I'm sure the paper work for the customs is not that easy. So that could be more complaisant.
So maybe I'm wrong about something: I wanted to ask you something about distilleries in city, I have the impression that there are more and more distilleries in the city. Also the fact that the law will change soon will help more distilleries to appear. Is this true?
From 1. January 2018 there will be enforced a new law so that everyone that fulfills the requirements can distill. So there will pop up a few more distilleries for sure. But let's see, you need a lot of investment to start with your own distillery, that should not be forgotten.
Do you have the impression that being a women change the perception people had on you? Or maybe I should rephrase: how do you introduce yourself?
Well, I'm a woman in a very men dominated business. The wine market is as hard competed than the schnapps market. I work hard, experience long evenings, days, nights and work not only during the week but also on weekends. I think in every job you have to be a warrior to pursue your goals. My goals are set high and I'm working every day for achieving them. But the very important thing I can say is that I love my job, I made my obsession to my profession, so work is not always work, it's my obsession.
And do you have a lot of colleagues who are female?
Not so many, but there a few great women Sommeliers, Restaurantmanager and merchants who are doing an amazing job out there.
Do you surprise people then when you say you are a spirit producer?
I operate in a business that is more reserved for men. Dealing in schnapps and wine is more a men dominated business. It often isn't very easy, as you have to experience long working days. And you should also might be in the position to work under influence of alcohol. Wine presentations normally need between 2-12 hours. I have to stay totally sober as I need to guide through the wines, explain the wine growing districts, aromas, narrate about the winegrowers and give information about the vinification and so on.That are very strenuous days but also helpful to get to know my clients better and to anticipate their every wish. At these tastings my clients also talk about private things. All that stories stay in my imaginary diary and will never step outside the world.
I really like my clients, they are all wonderful and we work very close. They appreciate my work as they know that they get stuff out of my company that you can't get anywhere else. That also makes me very proud.
What would you recommend to a young person who think about this profession ?
Try to make an internship at your preferred distillery to have a good insight if you really like the profession. Taste a lot of schnapps, to differentiate between good or bad, artificial and natural.
Have always in your mind that you need a lot of investment to start with your own distillery so you should think accurate if that's your profession you wanna work in. Or learn from the best and start in your beloved distillery as a distiller. Distilling is not always this only process, there's lots of paperwork you also have to managed on top.
Can we go back to the distillation process again? can you tell us more about the difference between Brand and Geist ? I feel this is something very specific to German speaking countries.
We differentiate in the production of schnapps between Brand and Geist. Base of all "Brand" is the mash. For a brand you need ripe and unscathed stone fruits. That fruits are chopped and mashed. Stone fruits contain enough sugar to transform in addition of yeast fruit sugar into alcohol. As soon as the fermentation is completed, the mash will be put in the distillation boiler and the mixture will be distilled.
Geister are produced of chopped and non fermented fruits. Fruits like raspberries, strawberries contain less sugar so mostly you will often find Geister out of these fruits. It is possible to make a brand out of these fruits but then you need lots of quantity. The fresh fruits bath in neutral tasting high percentage alcohol. The alcohol extracts the aroma of the fruits. The mixture of alcohol and fruits is put in the copper boiler and distilled.
Can we talk about the industry now ? How do you see the whole craft spirits industry changing ?
Schnapps refers to an historic drinking culture. I think it is more common to drink a schnapps after dinner or cheer with schnapps when meeting friends. In Italy you'll get a Grappa or Limoncello after dinner. A guy from Rumania told me that they drink there "Obstler" so fruit schnapps before, through and after dinner, while they are dancing and laughing.
I've also read in a book from Peter Richter (about drinking) that in medieval times antagonized parties (knights, kings) came together on a round table to get drunken. When they were drunken, they were the best friends and all their differences they made them to enemies were gone.
But if these treatment really prevent wars, remained to be seen.
It is not a novelty that consumption of alcohol is regressive. Younger people drink less alcohol, do sport, live and eat healthy. So let's see what's the next step for this target group.
So people now are rediscovering schnapps thanks to schnapps like yours with less abv?
Yes, I'm happy that people like the lower alcohol content in my schnapps.
New ingredients you would like to try these days?
Yes, but I currently keep this secret.
I understand!
Thanks.
Are you in contact with other distillers? I'm asking this because how surprised I was about seeing so many young and new people in the field during the Craft Spirits Festival for example.
Not so much because I have less time. I'm very happy to talk and discuss with my mentor!
Did you think about collaboration?
I feel it is complicated as you have to combine with two universes. I have my own idea how to create my new schnapps, with less alcohol and fruits that are not very common or well known in our society.
I had a collaboration with the lovely Candy farm, a small company and friends of mine, in Kreuzberg. We made a few chocolate bars with Hazelnut schnapps. Just a small experiment for Christmas.
Something you like to say to end this conversation, to the reader of the blog? How can they understand and learn about schnapps?
Try fruits during the season to get the very ripe taste of them and try then different qualities of schnapps so that you can differentiate between good and bad quality and artificial and natural schnapps.
So you would recommend to eat a lot of fruit!
Yes, eat lots of fruits, vegetables, nuts…to get a taste of the very pure ripe fruit that is later conserved in the schnapps.