From the gin category, again very widely represented with any bottles more beautiful than the other to the rice wines from Japan, 5 products that you should have tried at Bar Convent 2016 ! And as a bonus: the new trendy spirits!
1. SAFFRON GIN
by Distillery Kraus
…because it first tastes like any gin before the powerful and subtle saffron taste catches up in a never ending length. This is not a new product (see Boudier Saffron Gin but this one brings a definitely contemporary and intense touch (and a better design!).
2. RAKOMELO : HONEY BASED LIQUEUR
by Fine roots
I am not a big Liqueur fan but I must admit this honey based liqueur is surprinsingly well balanced and leaves a long non cloying honey finish on the palate.
3. PRINCESS GINKGO : FLOWER YEAST BASED RICE WINE
by Naito Jozo Sake brewery, Aichi brewers
Sake is not a spirit stricto sensu (it is fermented) but is is playing a growing role in the spirit category (for that reason i will treat sake making soon)
This Junmai type of sake is made from Ginkgo yeast and usual koji. It is delicate and well balanced, like drinking the first day of spring.
4. GIN RAW : A GIN DEVELOPED BY A SOMMELIER AND A PERFUME ARTIST
by Gin Raw
Gin raw has a terrible design, a terrible marketing and branding (at least to my taste). I have been attracted to the drink as it is said to be the only gastronomic gin. I do not know about it, what i know is that the gin is wonderfully full bodied, the botanical well balanced, not one overpowering the other, with some umami after notes which makes it more than pleasant. It is wonderful to drink straight.
5. AUGIER : REFRESHING COGNAC CATEGORIES
by Augier
Augier is the oldest Cognac house but it is fresh and young in spirit ! I love how they play refresh those antiquated categories. These cognac differ not by their ages/maturation but by their taste captured by the expressions: ocean, wild or singular. I loved the "océanique".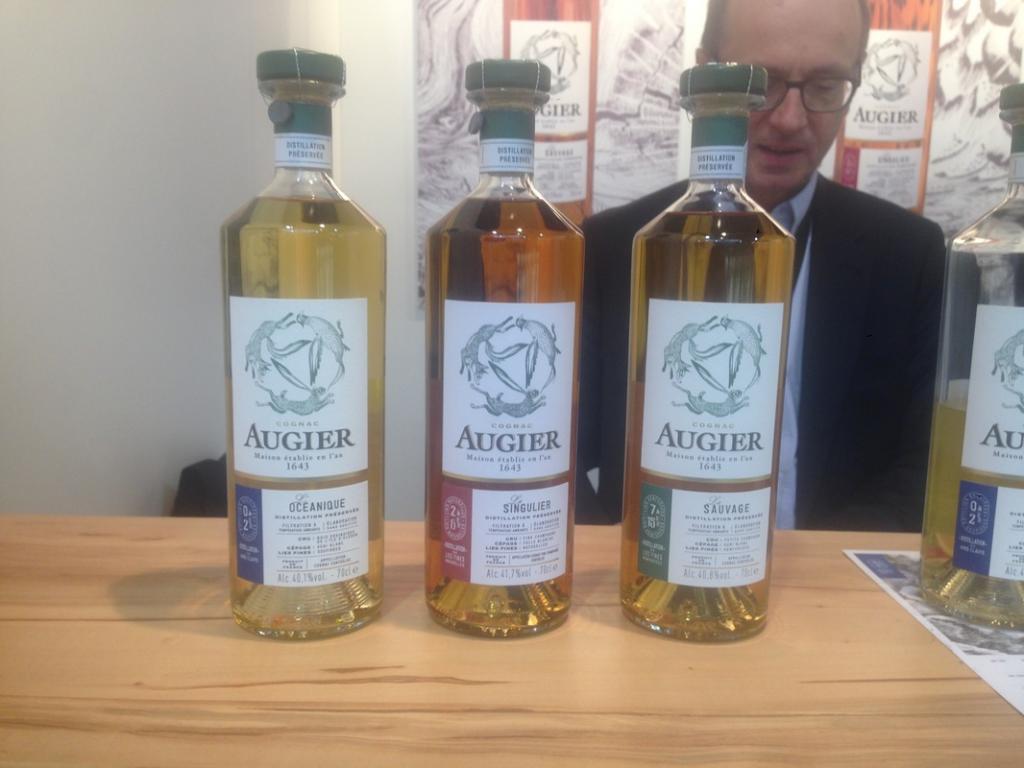 And What about the trends of 2016?
Which alcohol bartenders will favor in the coming months ?
According to J. Deibel here is his prognostics. In a nutshell : sake, calvados, armagnac, clairin and aquavit !

Aquavit
Definition: clear spirit with caraway as dominant botanical
The one we tasted: Linie Aquavit double Cask Port, Lysholm 52
Armagnac
Definition: Wine brandy made in south west France
The one we tasted: Castarède Bas Armagnac VSOP
Clairin
Definition: Rhum made in Haiti in the style of Rhum Agricole
The one we tasted: Clairin Sajous
Calvados
Definition: Apple brandy made in Normandy, France
The one we tasted: Chateau du Breuil VSOP
Sake
Definition: a Japanese and fermented, mildly alcoholic beverage made from rice
The one we tasted: ginjo yushu by akashi tao brewery
And you ?
what do you think about this choice ? my own suggestion about the immediate future of spirits, coming soon in that blog !